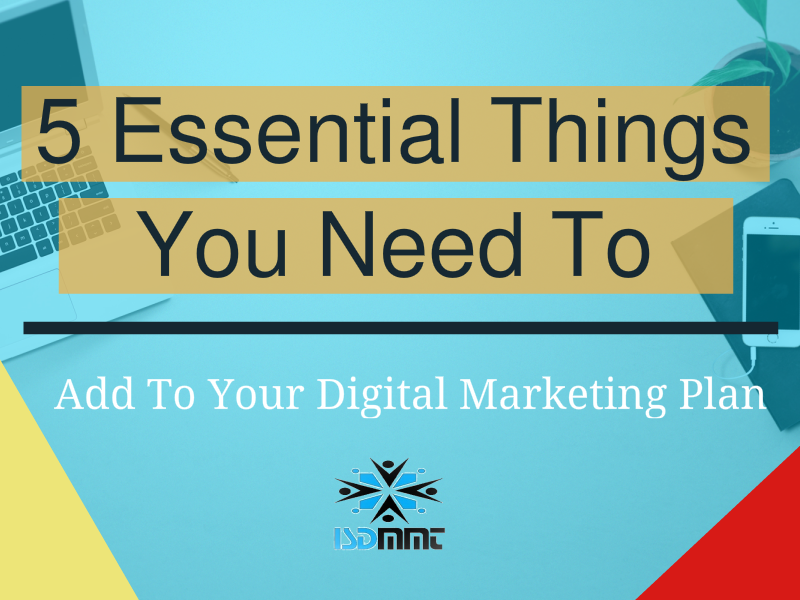 As 2017 comes to a close, many companies are already planning their digital marketing strategy for 2018. With the expectations of instant communication and evolving world of artificial intelligence, companies are planning their marketing strategy to stay updated with the market trends. There is always a lot to learn from the previous year strategy as to what worked out and what didn't.  Industry innovation is an essential practice to stay aloof from the competition and to future proof digital marketing performance. With the limited resources and scarcity of time in a small business budget, it is difficult to build a marketing plan as per the changing scenario. There are many digital marketing companies that render services in such situation and helps in getting an effective plan.
Thus it is always better to choose few digital marketing best practices rather than doing it all. Few of the marketing trends that stay on the top of the list in 2018 Marketing Strategy are as below:
1.    Marketing Automation:
This is an innovative solution to save time and resources by doing automation of repetitive tasks. But there needs to be an expertise available to utilize it otherwise, it can be an expensive venture. Under this concept, the website, social media and email campaigns are integrated with other lead generation initiative. There is always requirement in the company to generate leads for sales to increase revenue. Marketing automation helps in this by using number of marketing channels and automates the tasks.
2.    Mobile Marketing:
Google has already stated mobile as an important ranking factor. Thus the mobile friendly website and applications have gain significance in recent years. Every year, Google search has been made extensively and half of it is done using mobile. With the help of expanded text ads, Adwords are gaining importance and is about to become first advertising platform on mobile.
Everything done on a website, from content creation to display ads, it is necessary to incorporate mobile standards. You can always consider working with a digital marketing agency if you are low in resources as the digital marketing company can really help in boosting the sales of your products and services with the help of latest digital marketing campaigns.
3. Website Security
Earlier this month, Yahoo suffered a security breach that affected more than one billion of its user accounts. A security breach of this size should serve as a reminder of just how critical it is to ensure that your website is secure in 2018. We provide our clients with server-level monitoring for maximum security.
As scammers become more adept at stealing sensitive information, phishing scams are also on the rise  The Anthem medical data breach of 2015 was one of the largest data breaches in American history, and it caused by a phishing scam that targeted Anthem employees. Today's scammers will go to great lengths to separate you from your money or access your customer data. In our blog post, Lessons Learned From Scamming a Scammer, you can see just how far scammers are willing to go to get what they want.
In 2015, Google announced that it uses HTTPS encryption and SSL certificates as a ranking factor. This means that websites with HTTPS or SSL certificate will be given priority in Google search engine rankings over websites that don't. Many online shoppers won't even buy from websites that don't have SSL certificates, because they're afraid of having their credit card information stolen. If you haven't already done so, your company should definitely make the switch to HTTPS in 2017.
We offer SSL certificates, website security audits, employee training about the dangers of phishing scams and other common threats to your website security.
4.    Quality Content:
Anything posted on social media has to be a part of a thoughtful marketing plan. There will be a larger appetite for quality content in 2017 as social media also only favors relevant content. The customers are always looking for a unique, fresh approach to their problem and thus a customized experience is to be created to speak to the audience.
The realistic goals can be established and documented through an effective digital marketing plan. Internet now consumes more content and less advertising.
5. Paid Search Advertising
As the effectiveness of paid search advertising continues to grow, more companies are realizing that it's something they need to do to stay competitive. Popular paid search advertising networks like Google AdWords, Facebook Ads and LinkedIn Ads offer advanced audience targeting features that allow companies to target their customers like never before. This prevents your ad dollars from being wasted on irrelevant audiences and helps to ensure that your ads are in front of the right prospect at the right moment.
We can set up your paid search ad campaigns to only target users who meet your specific demographic and geographic customer data, or campaigns that only remarket/retarget your ads to people who have visited or made a purchase from your website. Using paid search advertising to target in-market segments of prospective customers who are actively researching and comparing your products or services to your competitors is an efficient and cost-effective digital marketing strategy.
However, with advanced targeting capabilities comes increased complexity. Many companies do what they can to limit their ad spend and reach their customers, but paid search ad campaign are the most effective when they're being managed and optimized by ad experts. Paid search ad specialists know how to research your competitors and;are able to tell you whether or not your competitors are doing paid search advertising and how much they are spending. They can even tell you which keywords your competitors are advertising for and which ads they are running so you can maximize the effectiveness of your paid search ad campaigns and increase your return on investment.
As a Google Partner that is also AdWords certified, we can optimize your paid search campaigns in accordance with Google best practices and setup or manage Bing, Google, Facebook and LinkedIn ad campaigns to achieve your marketing objectives and increase your ROI.