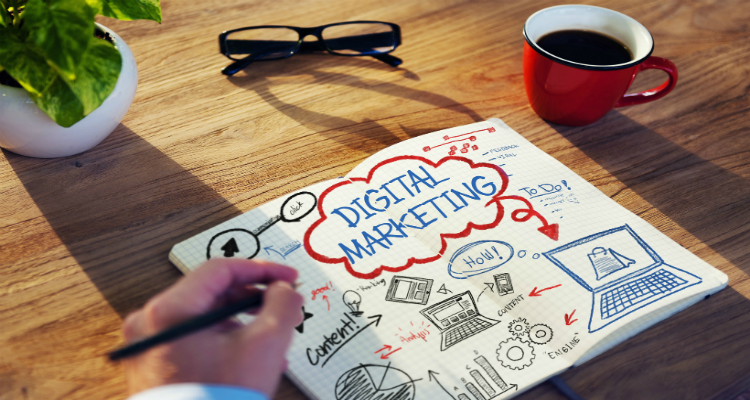 Top 5 Digital Marketing Trends in 2017
The year 2017 will be arriving soon and new digital marketing 2017 trends are also emerging. These trends relate to the digital consumer with developments relating to marketing practices and habits of users on social networks.
These are the Top 5 digital marketing 2017 trends:
1. Social networks are competing with Search engines to research information
To research information about a brand, product, service, users still think that the search engines is best. But first, put some emphasis on social networks for this approach. This is the case for the age group of 16-34 years, with more than 1/3 preferred social network against search engines.  The Social network is becoming equally important to research information.
2. The digital transformation is for 2017?
We talk a lot, but in fact, this digital marketing 2017 transformation, how to realize?  But the reality seems less simple: according to a recent study by Capgemini, only 7% of companies can be considered "expert digital", namely that "have invested in new technologies, changed their organization in depth, and are the only ones able to adapt quickly to the latest trends."  Every company which offers digital marketing services should be 100% updated on the latest trends.
3. Video Trend (Marketing)
This digital marketing trend, you cannot escape: the video is "new image". The influence of the video in use has increased steadily since 2011. The numbers are huge: 8 billion videos are viewed every day on Facebook, 7 billion on Snapchat (x 3 from May to November 2015). The consumption trend is the short format, even very short, "about 34% of the holders of a Smartphone regularly watch videos". Web companies indeed offer apps offering more short videos: Beyond streaming proposed by Meerkat and Periscope Twitter, Instagram launched Boomerang and micro-video 3 seconds (against 6 seconds to Vine Twitter in 2012).
4. Mobile
Another big digital marketing 2017 trend: The numbers are impressive: From 2015 to 2016, Facebook realize that 78% of its advertising revenue is from mobile. Over 50% of the 100 billion searches on Google are via mobile. And now, 51% of time spent on the Internet is mobile. This is the first time in so many years that mobile is # 1.
4. Images and Videos: guarantees interactions
Social networks, videos, and images allow very high engagement rate with the largest average user than other formats. Social networks are very important for online presence: Instagram, Pinterest, Tumblr and Instagram obviously well before Snapchat, are networks that have experienced the highest growth in terms of unique Users. Instagram realizes an average engagement rate of 4.21% (Study e-marketer) and on Twitter, 150% of tweets with an image receive 150% more retweets (Forrester).
5. Facebook is stronger than ever.
The benefit of Snapchat including Facebook yet appears stronger than ever: Economically, the group includes big social network like Instagram and WhatsApp. Facebook Messenger instant messaging service has over 800 million users (over 200 million in 1 year). So Facebook marketing cannot be underestimated in anyways in 2017.
These were the Top 5 digital marketing trends that cannot be ignored anyways. We at Pointer IT Solutions are evolving and changing with the new trends like some of them mentioned in this blog. We have an expert team who can handle digital marketing service like SEO, SMM, SMO and SEM very well and by our experience, we think digital marketing will keep evolving according to the trends and at ISDMMT will keep updating our knowledge according to the latest trends.